New Moon Sound Healing with Angela
Every 4th Sunday of the Month!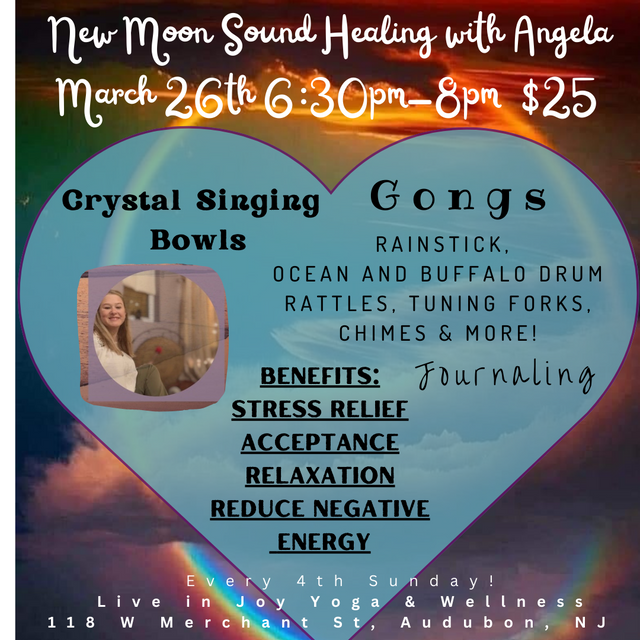 Description
Join Angela Fields every 4th Sunday with the New Moon lunar cycle to journal and set new intentions or goals. Along with this session is a variety of sound instruments from crystal singing bowls, gongs, rainstick, shamanic drum, chimes, crystal pyramid, kalimba and so much more. No experience necessary and new clients are welcome.
This is a great way to completely unwind from all of the every day activities and pressures from stress. Did you know that our bodies can hold onto tension and trauma that we endure emotionally? From both short term and long-term worry, fear, sadness, grief, insecurities and anger, emotions can tightly be held in our physical body. The benefits are releasing the trauma that is "stuck" and resetting the chakra system.
Each sound healing amplifies a meditative state by digging deeper through vibrations and sound, much like music and singing bring balance and joy. These sessions can bring a peace of overall wellbeing.
The Live In Joy Yoga & Wellness studio is a safe place in Audubon, NJ. Angela Fields graduated as a certified sound healer, yoga instructor and has the experience to help guide you to wellness. Private appointments can be made as well.
Price: $25
Live in Joy Yoga & Wellness
118 W Merchant St, Audubon, NJ 08106
6:30 PM EDT
to 9:00 PM EDT
Private:No
RSVP Required:No
Accept Registration Online:No