Shakti Circle Series - The Wheels of Life, Aura- The Talent of Radiance
A Journey Through The Chakras w/Teja & Kathy Milano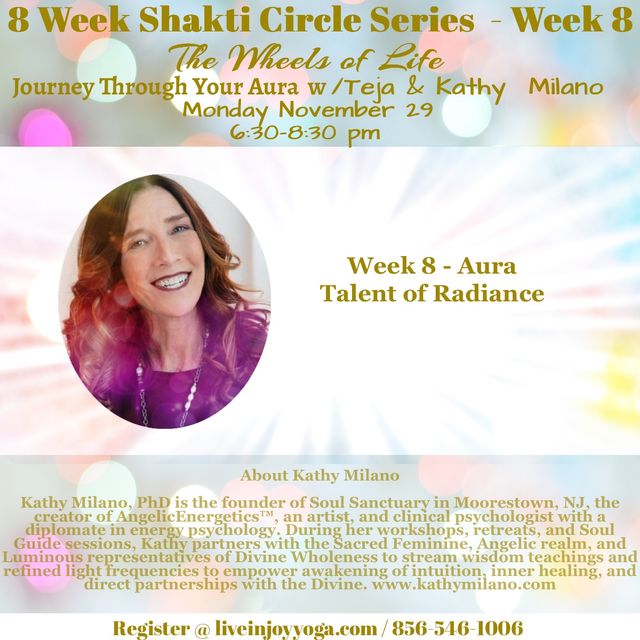 Description
Join us for an evening of honoring and reconnecting to our "shakti" energy that resides in all of us. We are excited to share this divinely inspired workshop with you that will hold us in a loving and living space each week.
Each week we will discuss one of the main eight chakras along with one of the beautiful, talented and powerful guest speakers that will join Teja. As they share their experiences we will learn how they have fully embodied the talent of each chakra to become the Shakti Women they are today. The women selected each have a story to tell and you may be familiar with it because it may sound a bit like your story!
This workshop is interactive giving everyone an opportunity to share or ask questions. Teja will share some tools and embodied practices to help strengthen the chakras and then we close our circle time with a beautiful meditation or sound /energy healing.
Schedule:
10/11/21 Week 1 Root Chakra ~ Talent of Acceptance ~ Micki Roth
10/18/21 Week 2 Sacral Chakra ~ Talent of Creativity ~ Suzi Zapile
10/25/21 Week 3 Solar Plexus Chakra ~ Talent of Commitment ~ Emily Turin
11/1/21 Week 4 Heart Chakra ~ Talent of Compassion ~ Lucia Ingraldi
11/8/21 Week 5 Throat Chakra ~ Talent of Truth ~ Teja Shanti
11/15/21 Week 6 Third Eye Chakra ~ Talent of Intuition ~ Krissy Marinelli
11/22/21 Week 7 Crown Chakra ~ Talent of Boundlessness ~ Dr. Tracey Ulshafer
11/29/21 Week 8 Aura ~ Talent of Radiance ~ Dr. Kathy Milano
Live in Joy Yoga & Wellness
118 W Merchant St, Audubon, NJ 08106
6:30 PM EST
to 8:30 PM EST
price
Private:No
RSVP Required:No
Accept Registration Online:No