Ready, Set, Action! Actions for Inspiring Kids
---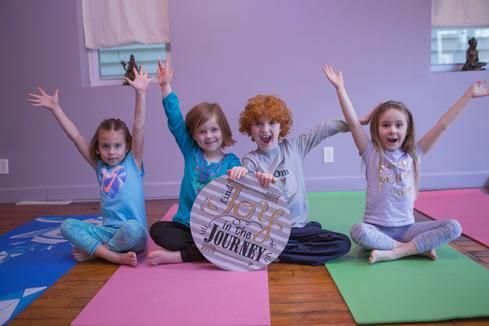 Ready, Set, action!
Action is the true course in attaining our goals. Whatever our goals maybe we must take action to manifest them into a reality. In kid's yoga, we inspire kids to take action in their daily lives.  We encourage and teach children to live their lives in empowering ways. 
Whether practiced at home or in a studio setting, kid's yoga instills a solid foundation for a life full of self-love, acceptance, kindness, trust, respect, compassion, patience and a willingness to help others in a non-judgmental way. Children build confidence in themselves and cultivate the tools they need to retreat to a "safe" place in times of stress. These empowered children know how to self-soothe, unwind and relax in this electronic addicted, overly stimulated world we are living in.
What we believe to be essential to empowerment are 5 elements -- connecting, breathing, moving, focusing and of course, relaxing.
Connect: These activities foster connections for children internally and externally.  They help children make sense of their own emotional experiences and also ground them in an awareness of their environment and the needs of others.
The breath: Conscious breathing is one of our most powerful tools for self-determination, and teaching children that they have some control over their own emotional and energetic state is an empowering lesson.  Gaining control of the breath in a safe way can be extremely beneficial in helping children regulate their emotions and energy level.  
Movement: Yoga-based postures help children maintain a state of alert engagement; overactive behavior is minimized but the child still feels strong and energetic.  They get an understanding of the importance of body awareness & limitations.
Focus: Children are often asked to focus but rarely taught how. Focus activities are designed to allow children the capacity to experiment with what it means to focus. Repeated practice permits them to notice when their mind wanders and then bring it back to the task at hand. We have some really fun focus games and activities in which the children love.  
Relax: Children of every age benefit from learning to relax and restore. Children are exposed to an overwhelmingly amount of sensory stimulation, they're often chronically sleep-deprived, and they generally have no idea how to calm themselves down. Relax activities provide the opportunity to rest both the body and the mind.  
So go ahead and take some action! Grab a children's yoga deck, a book, hop on you-tube or visit your local studio & see how kid's yoga can empower your child's life!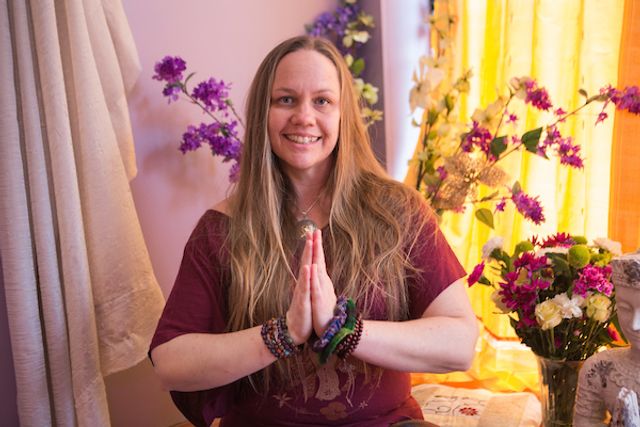 Cindy is the owner and operator of Our Souls Shine Holistic Health and Wellness. She takes pride in teaching children nutrition, yoga, and mindfulness.
Cindy is the author of Our Souls Shine, a nutrition guide for children and creator and maker of the now-famous Cinnamon Kale Applesauce which can be purchased in several local area cafes, restaurants and soon to be in Whole Foods.
Cindy has an extensive background in working with children, over 25 years and has loved every minute of it. She received her kid's yoga teacher training with Little Flower Yoga in Princeton, NJ, a Holistic Health Coach certification through The Institute of Integrative Nutrition and studied Ayurveda through Kerala Ayurveda Academy.
Cindy has a vibrant daughter Vera, awesome dog Bella and resides in South Jersey.
She is filled with pride, love, and gratitude to bring kid's yoga to her home town studio, Live In Joy Yoga & Wellness.