The Practice of Meditation
Experience the Benefits of a Meditation Practice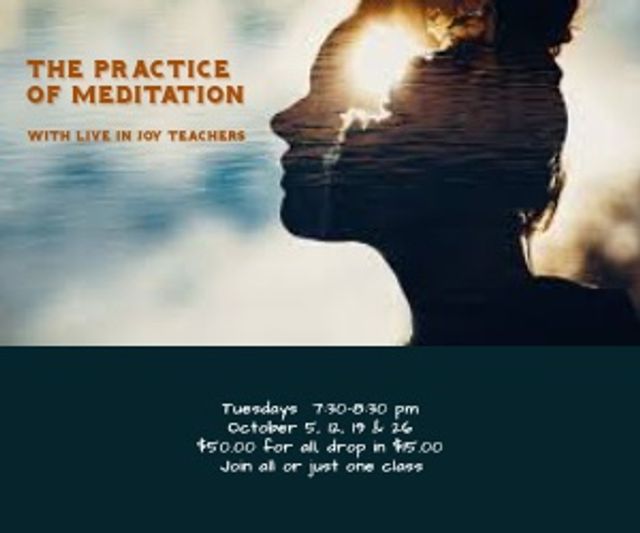 Description
Feeling overwhelmed with stress and anxiety of everyday life? New to meditation or wanting support in the process? 
Learn and experience the benefits of a practice that has been around for centuries, helping people quiet the mind and grow in peace. In this series, we will be developing a practice to help reduce stress levels, lower blood pressure and heart rate, improve sleep patterns, and increase clarity in the mind. Explore several different styles of meditation, and begin to develop your own home practice.  
Each 60 min class will be taught by one of Live In Joy's incredible teachers and will include gentle stretch and breath work to prepare body for meditation, background and instruction and meditation time, and end with a savasana.
This workshop is taking place In Studio only.  You can register for individual classes at $15 per class, or register for the entire series for $50.  See links and schedule below.

Schedule:
Tuesday, November 2 - Janet
Tuesday, November 9 - Sue R. 
Tuesday, November 16 - Sunshine
Tuesday, November 23 - Sharon B. 
Tuesday, November 30 - 
Register Here for Entire Series


Live in Joy Yoga & Wellness
118 W Merchant St, Audubon, NJ 08106
7:30 PM EDT
to 8:30 PM EST
Private:No
RSVP Required:Yes